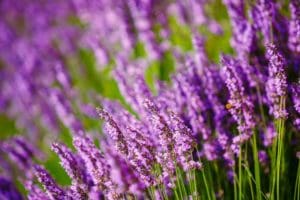 In my travels while demonstrating my products, I will ask if the person would prefer unscented oil or lavender oil. If the individual is from the younger generation I will often hear, "unscented please lavender reminds me of my grandmother and makes me feel old". Yes, that is probably true but the scent of lavender goes back much farther than their grandmother. Although historical records are not specific on the exact timetable lavender was discovered it is believed to have been used in Arabia around 600 B.C.
However you want to look at it, history shows us that many cultures have been using lavender and many other essential oils for generations. Some of the benefits of lavender are as follows:
Promotes Sleep: Adding a few drops of lavender oil to a diffuser next to you bed at night can help relax the mind and the body. Adding a few drops of lavender to your organic body lotion or oil not only relaxes you but nourishes your skin as well.
Hair and Scalp: Adding a few drops to your organic shampoo can be calming, fragrant and good for your scalp.
Itchy Skin: Lavender is an anti-inflammatory, so it can be used to relieve inflamed and itchy skin caused by eczema or insect bites
Sunspots: Consistently using an oil with lavender in the formula can minimize the appearance of sunspots
Headaches: Inhaling lavender scent or massaging the oil into the temples, forehead, and neck (specifically behind your ears) can treat headaches.
Acne: Lavender is antimicrobial and antibacterial. so it can be used to treat an acne flare-up or keep it at bay
Fragrance: Lavender has a delightful floral yet clean scent, so using it as a fragrance is a great natural choice.
Warning! Not all lavender is created equal. The kinds that you find at the drugstores and grocery stores are many times made with low grade oils that are not pure or have been diluted with fillers and synthetic ingredients. If a label does not clearly state it is an essential oil then it is not an essential oil and should not be used. A non-essential oil is simply perfume oils and are not likely to contain any beneficial properties. Lavender oil is not even derived from a lavender plant.
Essential Oils vs Fragrance Oils:
Essential Oils are steam distilled pure plant extracts used for scenting or aromatherapy.
Fragrance Oils are synthetically made chemical scent compounds.