With all the skin care products out there, we know it can be baffling and overwhelming to know what to use, when to use it, and how to use it. Nourish Skin Care has taken most of the confusion out of the routine by offering a concise, targeted line of products with extremely efficacious organic ingredients. Still, here are some tips on getting the most out of your skin care regimen.
A Good Clean Is Essential to the Routine
First off, most people don't cleanse their skin properly before applying products. You should wash your face in the morning and at night before bed, and apply products after that. This article from NBC News gives excellent information about proper facial cleansing. It includes advice such as:
Don't wash too much or skin can get dry and aggravated.
Use lukewarm water.
Don't use too much cleanser.
Don't exfoliate too often.
If you're traveling or at the gym after a workout, facial cleansing pads are a quick and easy way to properly remove dirt and sweat. Nourish Skin Care pads soothe and cleanse skin with organic and botanical ingredients.
Though you shouldn't exfoliate too often, it's a good way to slough off dead skin and get that healthy glow. Nourish Walnut Facial Scrub uses walnut shells that are ground and polished to remove the toughest dead skin cells, yet remaining gentle to the skin.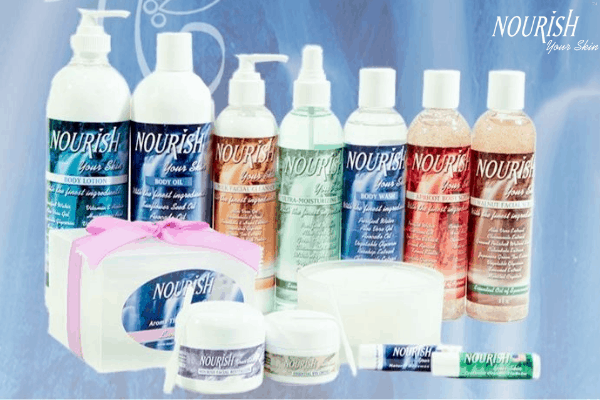 Follow a Specific Order
Just as you wouldn't put on your socks over your shoes, you need to apply skin care products in the correct order so that you get the best benefits. The simplest routine will include cleansing, toning, and moisturizer. If your moisturizer doesn't have sunscreen, that goes on last.
After toner and before moisturizer, apply serums, eye cream, and/or spot treatment, in that order. After moisturizer, you can add face oil and then sunscreen.
Note that not everyone needs all of the products — if you have only three items and it's working for you, great!
But if you need that extra boost, serums and eye creams can help. Nourish Vitamin C Serum is formulated with hyaluronic acid to reduce fine lines and wrinkles, minimize pores, and fade sunspots and discolorations. Nourish Essential Eye Crème promotes collagen production, helps to replenish elastin in the skin, helps to reverse sun damage, and even tightens sagging skin.
Please visit Nourish Skin Care Products to learn more about our specially developed, high-quality yet affordable line of skin care, and reach out to us with any questions!
Texas-based Nourish Skin Care Products provides a variety of organic products to protect and care for your skin. Visit www.nourishskincareproducts.com to learn more about the natural ingredients that make our products unique, or shop now. Reach us at info@nourishskincareproducts.com or online.