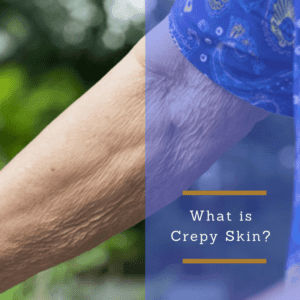 Well, the quick and easy answer to that question is simple. The word crepy is used to describe skin that looks like crepe paper. Don't concentrate solely on your face your skin is aging also from the neck down. As your skin matures the netting that keeps the skin smooth dries out and gives the crepy look. As the body slows down the production of elastin and collagen which are the proteins that allow the skin to stretch and contract the skin will begin to sag and wrinkle. After say about the age of 40, years of mistreating and taking our skin for granted our skin will become thin, lose its moisture and elasticity. The places you will notice the most significant changes will be the knees, elbows, chest, feet, neck and hands.
How can we improve Crepy Skin?
We are just in time for summer when you want your skin to look its best. Let's turn back the clock and revive your dry dull skin. As we age your skin will feel drier because the body will stop producing as many new skin cells and no longer retain the moisture your skin needs. The skin will also slow down the production of the oils that help feed and plump the collagen and elastin in your skin. You can visibly plump and give your skin volume by removing dry skin cells and moisturizing your skin.
First: Never use over-the-counter soap or body wash that contain harsh ingredients such as sulfates.
Second: I would recommend using an organic body scrub to wash away dry dead skin.
Third: I would recommend an organic skin revitalizer that is rich in hydrators such as Coconut oil, Olive oil, Cocoa Butter, Shea Butter, Vitamin E and Hyaluronic acid.
Fourth: I would recommend to always use an organic sun screen whenever you are exposing your skin to the sun. My recommendation would be to use a sunscreen containing micronized zinc oxide as the SPF.
Love the skin you're in, you don't have to look like your mother. Bring out your natural beauty and wear your skin with confidence.