Summer is just around the corner. Let's think sexy feet.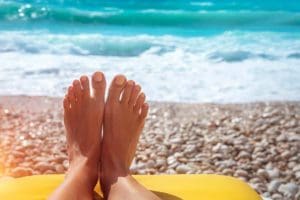 We all would like our feet to have that pampered look. After hiding our feet all winter and neglecting to give them proper care it is time to get out those files, clippers, scrubs and moisturizers so our feet look their very best in strappy sandals, flip flops or just laying by the pool.
First off I would recommend a professional pedicure to get you started. After they remove your built up calluses, trim your toe nails and cuticles it should be fairly easy to keep your feet maintained.
My recommendations for the perfect DIY pedicure:
Make it fun, have a girls night out. Celebrate with wine, food, fun and movies while you all make your feet beautiful.
1. Fill a foot tub (preferably one with a jacuzzi action) with warm not hot water and relax watching TV or reading a book to give those feet a well- earned soak. This will help improve circulation and soften the skin making it easier to remove the callus buildup.
Add some sea salt and relax. After soaking use a gentle pumice to remove that tough softened callus.
2. Trim your toenails. To avoid in-grown toenails it is recommended to trim your toenails straight across and don't go too short. Push back the cuticle gently and file away any rough edges on the corners of your toenail also with a gentle pumice file away any leftover roughness from the callus removal on your heels.
3. Apply an organic or botanical oil followed by an organic or botanical lotion.
For an extra treat chose a partner and give each other a foot and leg massage.
If you are treating your heels for a severe callus condition you may want to apply the oil and lotion before bedtime slipping on your favorite socks, for severe cases you may want to sleep in them.
4. Apply some sparkly sexy polish and you're all ready for those strappy sandals.
Linda Irwin-Hurley is the Author of "Loving the Skin You're In" that is currently available on Amazon and Founder of "Nourish Your Skin" an organic and botanical skin care company. All products are chemical free.