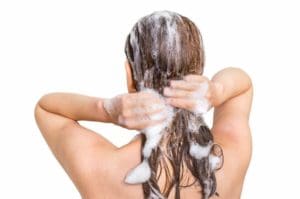 When you think of organic skin care products remember the skin on your scalp. The hair on your head is growing out of your skin. If you are not using organic shampoo and conditioner you are depriving your scalp of the ultimate in gentle and effective hair care.
Organic products are gaining popularity in the marketplace today. Organic formulas for shampoos and conditioners are typically formulated with beneficial essential oils and natural extracts to solve your hair issues. These gentle formulas will delight you with the look and feel once you embrace them. You will be amazed at the shine and the manageability you will enjoy around the clock.
While the cost of the natural products may be slightly higher than the shampoos you have been using from over-the-counter it will be so worth it and you will be eliminating the harmful chemicals that enter your bloodstream through the capillaries located beneath the surface of your skin.
You will find there are many variations of shampoos and conditioners in the marketplace. I believe that the following ingredients are essential to maintain healthy hair.
For shampoos look for:
Aloe Vera for healing and soothing an itchy scalp
Coconut Oil Soap to retain your natural moisture content and make hair stronger. Olive Oil Soap which reduces allergic reaction and cleans without stripping away the natural oils.
Japanese Green Tea which helps to promote hair growth.
Jojoba Oil a natural emollient that gives the hair moisture and strength, also helps with dryness and frizz.
Avocado Oil has many beneficial nutrients that promote the growth and health of all types of hair.
For Conditioners look for:
Aloe Vera Juice to sooth, moisturize and condition the hair. It also has anti-fungal properties that help to rid the scalp of dandruff.
Jojoba Oil a natural emollient that gives the hair moisture and strength, also helps with dryness and frizz.
Coconut Oil for a conditioning base.
The average person washes their hair approximately three times per week. Just as I have listed above some of the good ingredients to look for while shopping for the shampoo and conditioner that is right for your skin and wellbeing, it is important to be aware of the harmful ingredients to look out for also. Avoid harmful chemicals that are present in some of the over-the-counter products.
Harmful Ingredients to Look Out For:
Parabens possess estrogen mimicking properties that increase the risk of breast cancer when absorbed into the bloodstream.
Sulfates are detergents used in car washes, garage floor cleansers and engine degreasers.
Synthetic Fragrances contain the presence of up to 4,000 separate ingredients, many toxic or carcinogenic.
Triclosan works well at killing bacteria however not all bacteria is bad. Some experts believe the widespread use of this chemical could give rise to superbugs resistant to antibiotics.
Propylene Glycol may cause dermatitis and skin irritation and may inhibit skin cell growth.
Organic products may not be the cure all for you but they will provide healthy ingredients and nice clean hair. Without the harmful chemicals you will enjoy the benefits of strong and healthy hair.