Now that we're ushering in spring, we are all probably spending more time in the great outdoors. Sunny weather beckons us to hike, cycle, and play outdoor sports … and soon, we'll be in the pool. Unfortunately, this blissful time of year comes with its fair share of skin care challenges that can significantly impact the health of your skin. Here are some beauty tips from Nourish Skin Care to make sure your fun in the sun doesn't translate to sunburns and permanent skin damage.
1. Always Wear Sunscreen
The importance of sunscreen isn't new, but it isa routinely overlooked element of a thorough skincare routine. Luckily, finding the right sun protection doesn't have to be difficult. We suggest using an organic, chemical-free sunscreen with micronized zinc oxide to avoid the chemicals that can interfere with your hormones and increase your risk for cancer.
Today's superior zinc oxide sunscreens are clear and non-greasy, unlike the heavy white masks of the past. Don't forget to apply it to frequently forgotten areas like the ears and all around the neck. Wear your sunscreen any time you leave the house. Consider using it indoors, too! Windows allow enough sun into your home to affect the health of your skin.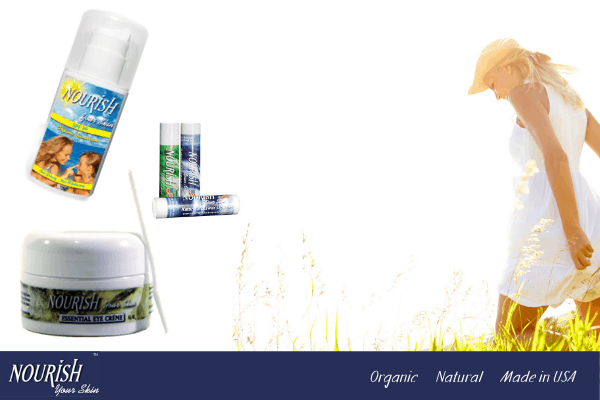 2. Don't Skip Eye Cream
Sunscreen alone is important, but sometimes we need a bit more protection from the sun's rays, especially when it comes to sensitive skin under our eyes. All-natural eye creams (like our Essential Eye Crème) are a great way to ensure you have plenty of protection from sun spots and wrinkles. Look for those with anti-aging properties to provide double the benefits!
3. Invest in a Quality Lip Balm
More time outside can result in chapped and painful lips from both the sun and wind. Most people either ignore lip balm or spend as little as possible on them, but a quality product can help protect you from the elements. For smooth lips that can stand up to a brisk breeze, invest in a lip balm that contains skin-pleasing organic ingredients like aloe vera, vitamin E, and beeswax.
For a full line of organic products formulated to protect your skin, check out the Nourish Skin Care Products shop.
Texas-based Nourish Skin Care Products provides a variety of organic products to protect and care for your skin. Visit www.nourishskincareproducts.com to learn more about the natural ingredients that make our products unique, or shop now. Reach us at info@nourishskincareproducts.com or online.